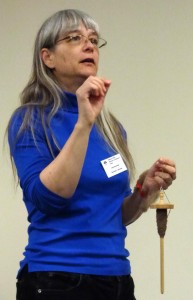 My name is Judy Kavanagh. If you meet me you will notice that I usually have a spindle in one hand and fibre in the other. Or else I am selling bags of delicious fibre or spindles to other fibre addicts.
Perhaps you might find me teaching a new convert to spin on a spindle or wheel, trying to instill the same passion for spinning that I enjoy.
At other times you will see me sitting at one of my several spinning wheels, creating delicate lace weight yarn, sturdy sock yarn or tailspun yarn that looks like the sheep that it came from.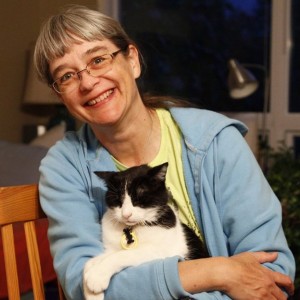 Sometimes I have my hands deep in lanolin, skirting and sorting fleeces and washing them; transforming them from smelly and dirty sheep fur to shiny, pristine spinning fibre. Or I am hovering over my dye pots on the stove adding just the right colours to fibre.
Maybe you will spot me working at the lathe, making spindles out of beautiful breeds… I mean species… of wood. Wood is almost as tempting as fibre.
And you might just find me weaving on a backstrap loom or my small table loom or doing ceinture flechee.
On the rare occasions that I am not elbow deep in fibre I can probably be found hugging a cat or dog or playing a musical instrument.