While writing an article on Baltic pick-up weaving for tinyStudio Creative Life Magazine (Issue 14), I discovered the amazing weaving tradition of the Sámi people.
The Sámi are the original people of northern Scandinavia, arriving in the area some time after that last ice age. They fished, herded reindeer and lived off the land, later taking up farming as well. They speak 10 different Sámi languages which are linguistically related to Finnish and Estonian. The historical English name Lapp is considered derogatory.
As with many indigenous people, Sámi culture was repressed by the people who came to the land later. Between 1900 and 1940 in Norway it was forbidden to use the Sámi language in schools and Sámi children were taken away to boarding schools. Anyone wanting to buy land for agriculture had to speak Norwegian and have a Norwegian name and the best land was given to Norwegians. Many Sámi people immigrated to Canada and the United States to escape this discrimination.
Fortunately the Sámi culture and language has survived in Sápmi (the name for Sámi lands in Norway, Sweden, Finland, and Russia). In all three Scandinavian countries there is a Sámi parliament and Sámi languages are recognized. 10% of Sámi people are still involved with reindeer herding but now many live in cities.
Woven patterned bands were popular among the Sámi and had many uses, for example as belts and as shoe bands that were tied around the tops of shoes to keep out the snow, Since they were nomadic cultures, portable looms were essential and they made heddles and shuttles from reindeer antlers and wove backstrap style. The patterns they wove and the colours they used depended on the wearer's gender and marital status and the borders gave information about family and village. Today bright colours such as the red, blue, green and yellow of the Sami flag are popular.
In 1882-83 a Danish astrophysicist and amateur photographer, Sohpus Tromholt, travelled to Kautokeino, Norway to study the Northern Lights but he is known more for his collection of photos of Sàmi people and their culture. Many of his pictures show people wearing beautiful, complex woven belts.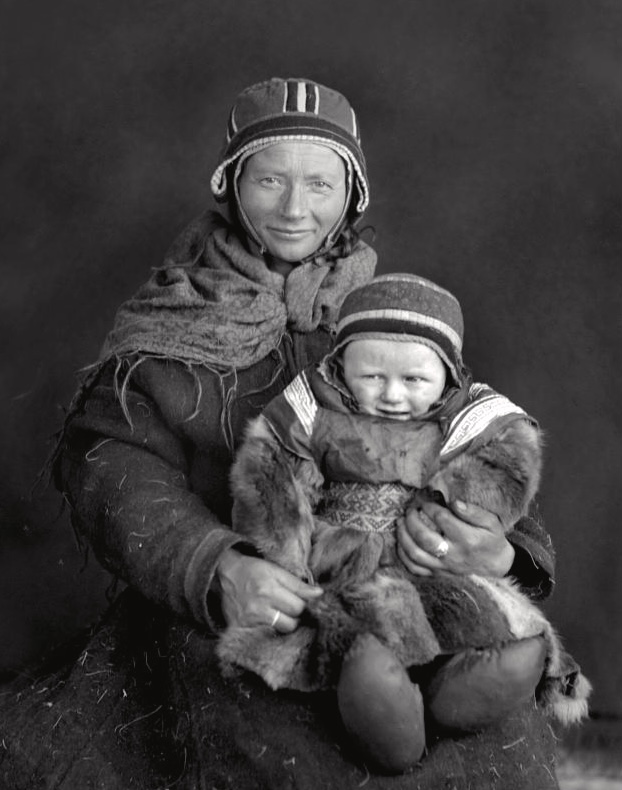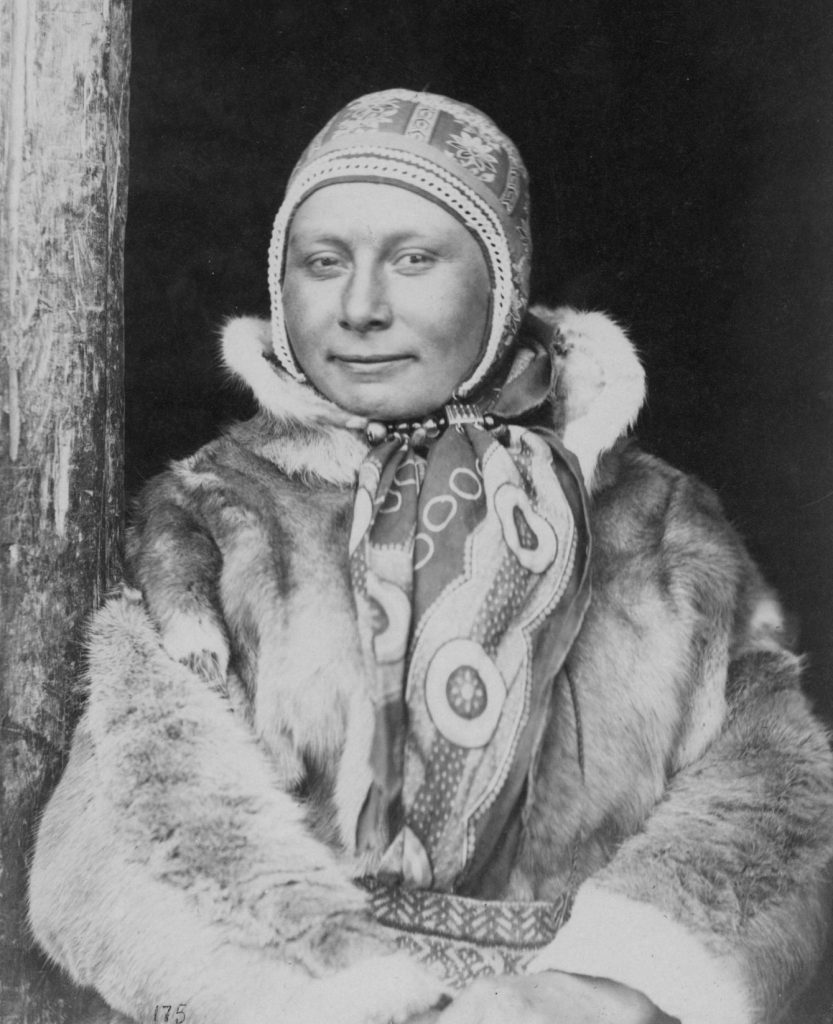 A Norwegian IT worker, Per Ivar Somby, has hand coloured many of Sophus Tromholt's photos, some of which are of his own Sámi ancestors.
Ellisif Ranveig Wessel (1866-1948) lived in Kirkenes, Norway where her husband was a doctor. She documented local culture and published a book in 1902.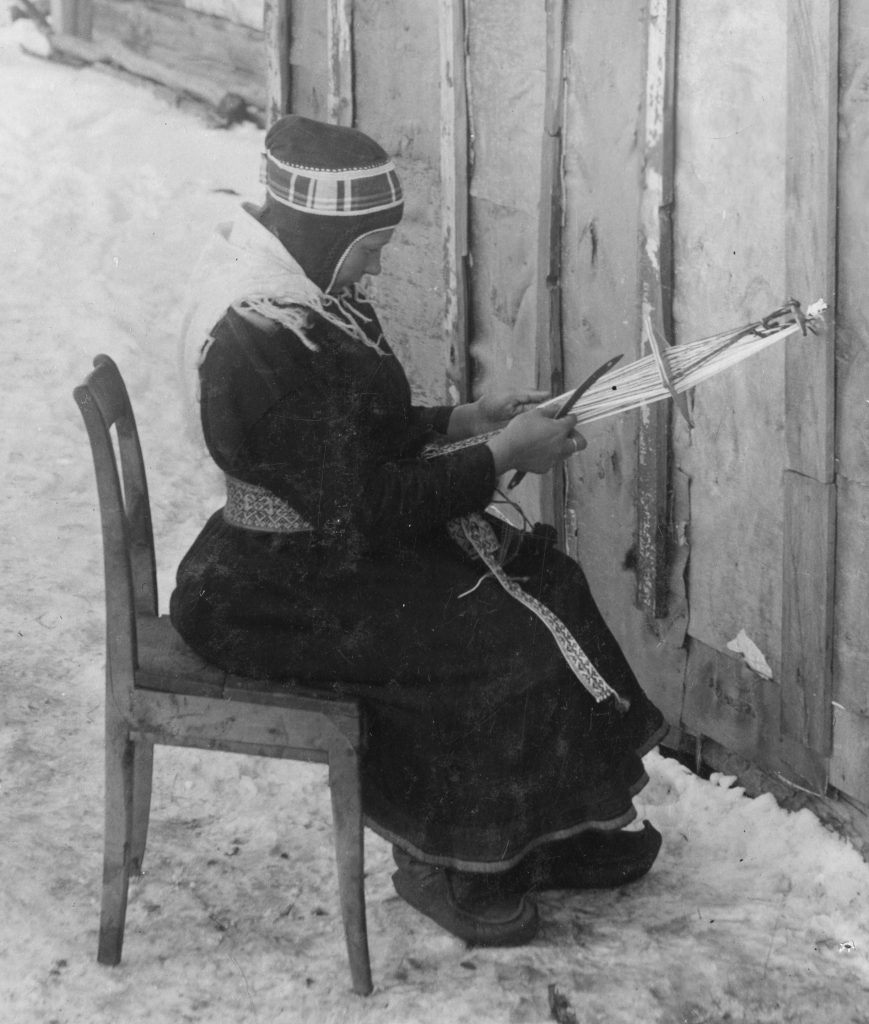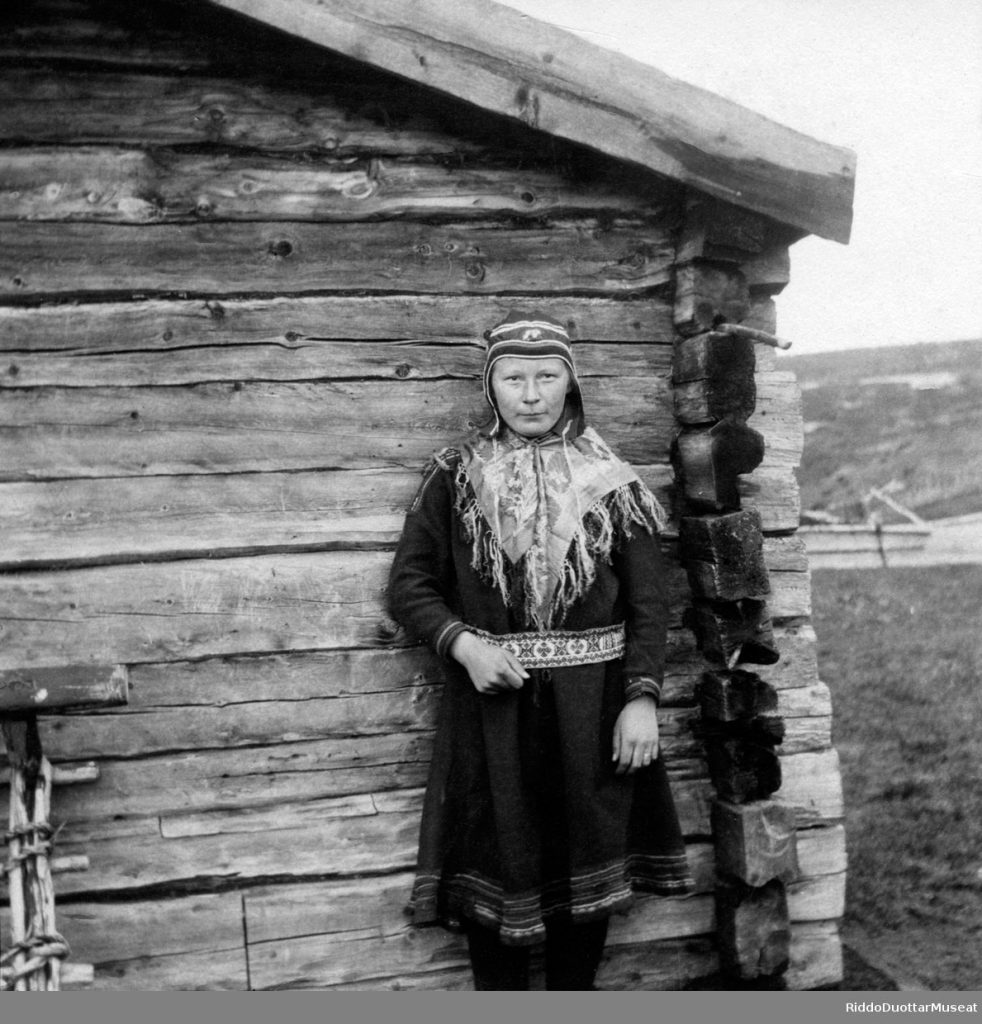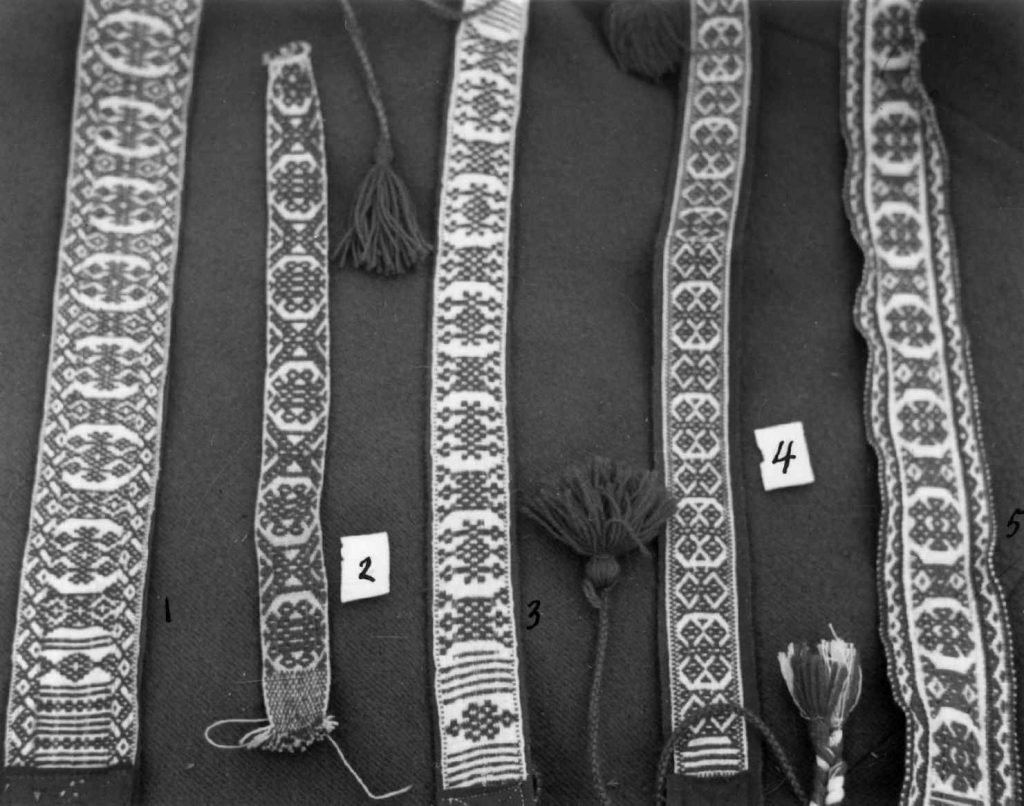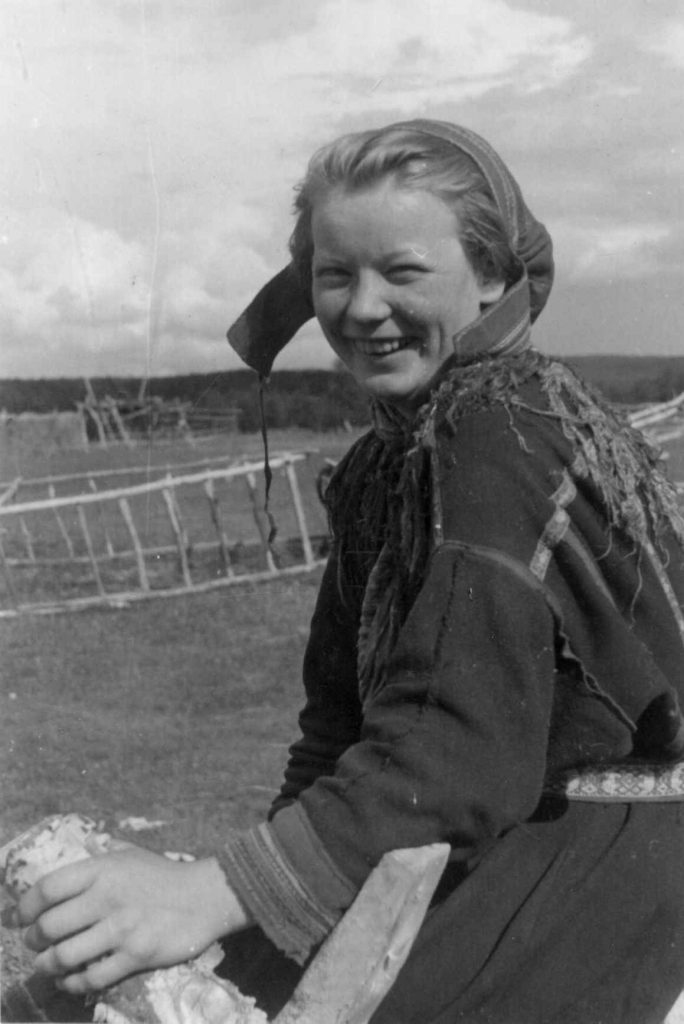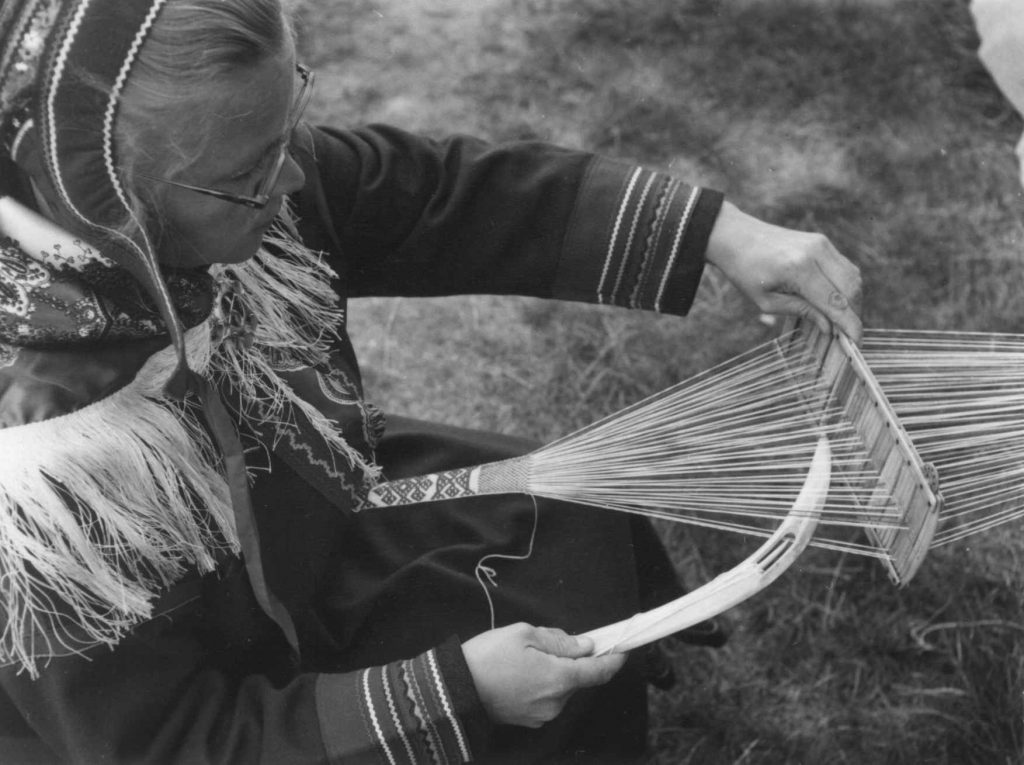 Contemporary Sámi weaving
Asle Tveitnes weaves traditional Sámi patterns. He is not Sámi which has created some controversy. An article about him in the Sámi language has a video of him working. (Google Translate was my friend while I researched this kind of weaving but it does not translate from Sámi).
The Way of Sami Duodji: From Nomadic Necessity to Trademarked Lifestyle by Desiree Koslin
An article that stresses the importance of Sàmi duoji (crafts) to culture and language and ways to keep it from being appropriated. Keeping Sámi weaving tradition alive
Veasomem suehpedh – to weave a life
There are some Sámi weaving patterns on the web site of Edmund S. Bull-Seven
Susan Foulkes has a lovely how to book on Sami weaving and another book with more patterns called Weaving Sami Bands. She studies traditional bands in museums and documented their patterns. If you choose to weave Sámi patterns be sensitive to issues of cultural appropriation. The colours and patterns in the bands have significance that outsiders may not be aware of.