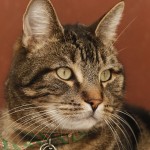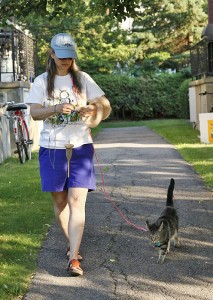 A neighbor and I conspired to neuter the stray cat, who I now called Puffy because he looked a bit like my cat Scruffy. Puffy was friendly and easily caught. At the vet he was neutered and vaccinated. Unfortunately he also tested positive for FIV, a kitty virus that is normally only spread through cats fighting.
We now needed to find Puffy a home where he could be an indoor cat and not infect any other cats. In the meantime Basil took it as his personal mission to kill Puffy. I could not let him out on his own so I started to walk him on a leash. Basil took to the harness and leash splendidly, so long as he did not spot Puffy. Walking a cat is not an aerobic exercise so to amuse myself while Basil sniffed bushes and rolled on the sidewalk I took along my favourite spindle.
Basil is no longer with us but Puffy found a great home with another FIV+ cat and got a new, more dignified name – Angus.